LG 2021 TV Lineup featuring QNED Mini LED TVs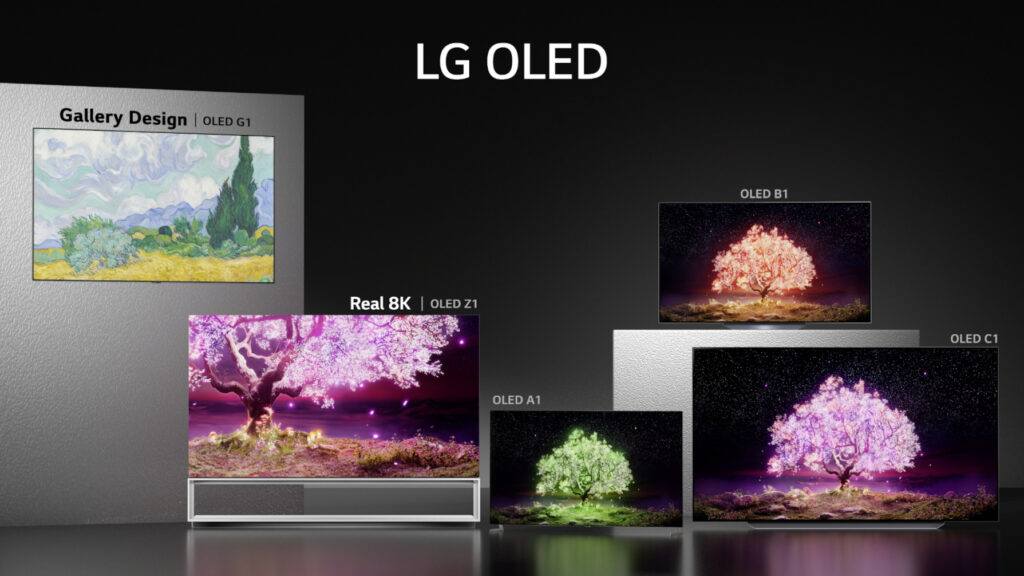 LG recently announced the rollout of its 2021 TV lineup which offers an expanded lineup that features new OLED, QNED Mini LED and NanoCell displays. LG's new offerings will be available in a wide range of screen sizes starting at a very compact 43 inches, and all the way up to a mammoth 88-inch model.
LG 2021 OLED TVs
LG's latest OLED TVs will consist of the Z1, G1, C1, B1 and A1 series'. The Z1 is an 8K model, whereas the G1, C1, B1 and A1 are 4K models.  All models in the G1 series feature the new OLED evo technology, the next step in the evolution of OLED TVs that delivers better luminosity for higher brightness and punchy images with amazing clarity, detail and realism.
The G1 4K OLED TV will be available in 55, 65 and 77-inch screen sizes. Key features of the G1 series include Gallery Design which is designed to put the spotlight on your content and complement your home's interior – Self-lighting OLEDs produce perfect black levels, intense color and infinite contrast. α9 Gen 4 AI processor 4K with AI Picture Pro & AI Sound Pro. Dolby Vision IQ and Dolby Atmos are also onboard for enhanced picture and sound. Smart TV functions are handled by LG's webOS 6.0 & ThinQ AI w/ Hands-Free Voice Control.
LG's most popular 4K OLED TV, the C1 series, will offer the most screen size options which include 48, 55, 65, 77 and 83-inch screen sizes and will be equipped with an a9 Gen 4 AI processor, support Dolby Vision and Atmos. For gaming, the C1 will be G-SYNC compatible, FreeSync, VRR and ALLM. Smart TV features will include webOS 6.0 + ThinQ AI.
LG's B1 series will be continued but at this time there is no official announcement on screen sizes. I assume it will still be equipped with last year's key features including G-SYNC compatibility, FreeSync, VRR, and ALLM gaming features. I assume it will also have the upgraded a7 Gen 4 processor and the latest webOS 6.0 smart TV platform.
Rounding out LG's 2021 OLED TVs is the new A1 series. In previous years, the "B" series was the entry-level OLED model. The A1 will of course offer the top-quality picture images that OLED is known for.
However, since this is an entry-level TV that is priced lower than the previous entry-level model, there are some features that were omitted from this series such as HDMI 2.1 connections which means no FreeSync or VRR for gaming as well 4K 120fps support. However, the A1 will support ALLM. Another compromise is the use of a 60Hz panel instead of a 120Hz panel.
On a positive note, features that have trickled down from other series' include the A1's video processing which will be handled by the LG a7 Gen 4 processor. Other features include eARC support, LG's latest 6.0 version of webOs smart platform, as well as support for Dolby Vision, Filmmaker Mode, Google Assistant, and Apple AirPlay 2/Homekit. The A1 will be available in 48, 55, 65 and 77-inch screen sizes.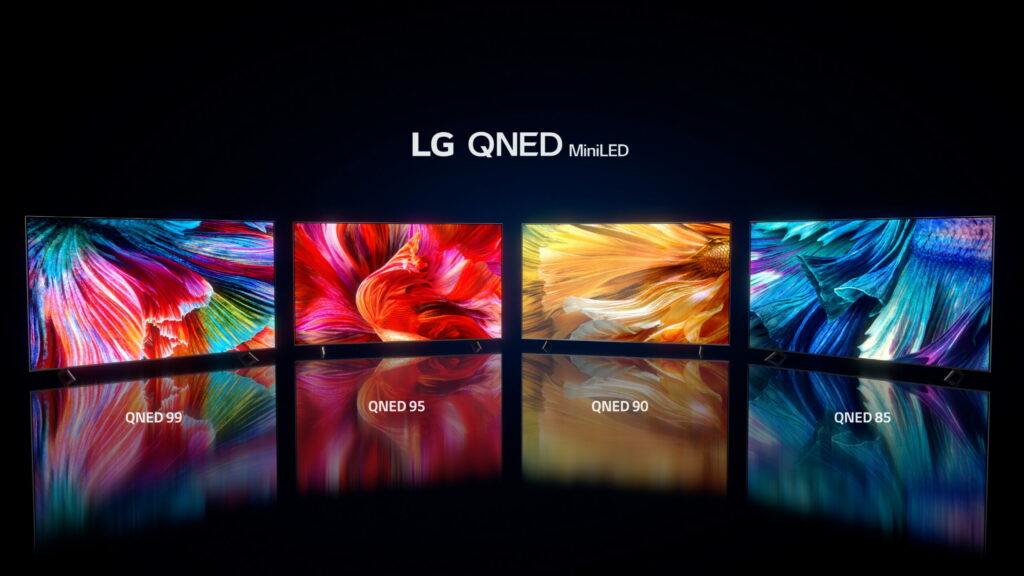 LG 2021 QNED Mini LED TVs 
LG will be introducing its new QNED Mini LED TVs. Available in an array of 8K (models QNED99 – 65", 75", 86"/ QNED95 – 65", 75") and 4K (models QNED90 – 65", 75", 86"/ QNED85 – 65", 75"). These models employ LG's Quantum Dot NanoCell technology and Mini LED backlighting to achieve deeper blacks, more vibrant, accurate colors and greater contrast than conventional LCD televisions.
LG claims their new QNED Mini LED TVs will set a new standard for LCD TVs, enabling users to enjoy excellent HDR image quality and a far more immersive viewing experience, thanks to the combined power of the new NanoCell Plus technology and quantum dots to deliver improved red and green while the blue wavelength is emitted from the LED.
LG's new NanoCell LED 8K and 4KTVs. The 8K models consist of the NANO99 and NANO 95. The 4K models consist of the NANO90, NANO85, NANO80, NANO77 and NANO75. All models feature LG NanoCell display technology, employing nanoparticles to filter out color impurities, resulting in lifelike images that draw the viewer deeper into their favorite movies, sports and shows.
The following additional info in italics is from LG's recent press release:
Beyond superb picture quality, all of LG's premium 2021 TVs offer an immersive home entertainment experience through compatibility with the latest standards and content formats, and brand-new features and functions that add differentiated value. With support for Dolby Vision IQ, Dolby Atmos, HDR10 PRO and Filmmaker Mode, this year's TVs make the latest movies, TV series and documentaries come to life through picture and sound of the highest quality.
The international product testing agency Intertek has certified LG OLED TVs as having 100 percent color fidelity, which takes viewer immersion to a new level.1 And for viewers' ultimate comfort, LG OLED TVs are also easy on the eyes, thanks to the low blue light certification from TÜV Rheinland and flicker-free certification from Underwriters Laboratories.
Improving on the premium gaming experience LG TVs have become known for, the new Game Optimizer automatically applies the best picture settings according to the type of game the user is playing: first-person shooter, role-playing or real-time strategy. And sports fans will find it easier than ever to keep up with their favorite leagues and teams on LG TV with Sports Alert, while OLED Motion Pro displays every exhilarating moment and key play in incredible clarity. With Bluetooth Surround Ready, LG TVs can wirelessly connect to multiple Bluetooth speakers to deliver powerful, nuanced audio that faithfully recreates every sound on the field to recreate the feeling of being at the stadium.
Featured in the majority of this year's TVs is LG's latest intelligent processor, α (Alpha) 9 Gen 4 AI. Integrating improved deep learning, the upgraded processor boosts upscaling performance to make content of any quality look sharp and detailed on the new TVs' high-resolution screens. The α9 Gen 4 further optimizes visual output, making precise adjustments in accordance with the amount of light in each scene, the genre of content playing and ambient conditions in the viewing environment.
Picture quality is further improved with LG AI Picture Pro which recognizes the objects onscreen and processes them independently to bring three-dimensionality and depth to every scene. Additionally, AI Sound Pro up-mixes two-channel audio to virtual 5.1.2 surround while Auto Volume Leveling ensures a consistent volume when switching between channels or streaming apps.
The user experience offered by LG's newest TVs is now more convenient than ever thanks to webOS 6.0, the latest version of the company's intuitive smart TV platform. Revamped and refined for 2021, the new webOS user interface provides faster access to apps as well as simpler content discovery with finely-tuned personalized recommendations. And a redesigned Magic Remote has dedicated hot keys for popular content providers, allowing users to jump to their favorite services with just a quick push of a button.
Select TV series, models and sizes will begin rolling out to participating retailers in the first quarter continuing throughout the year with specific dates and lineups announced locally.
Stay tuned for updates on additional models, pricing and availability.
All image credit LG