Vizio Coming on Strong with its 2020 TV Lineup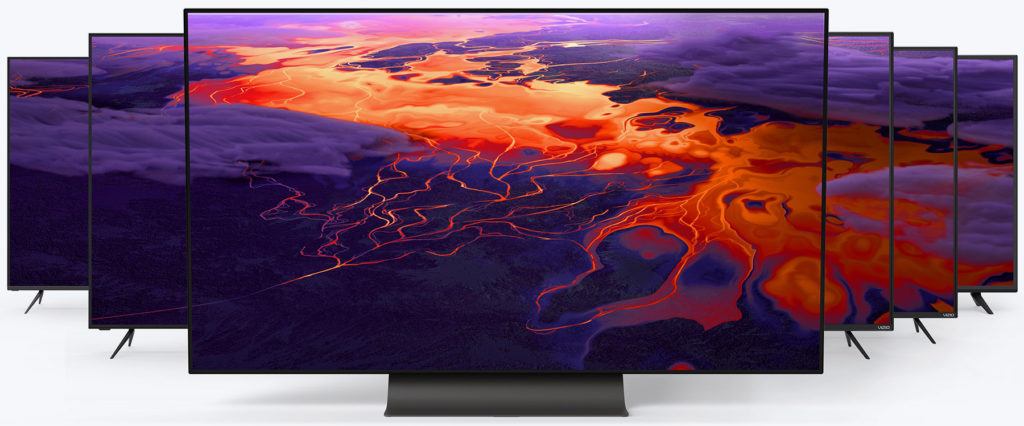 Vizio's lineup of new TV models boasts increased Quantum Dot performance, next-generation TV processors and cutting-edge gaming features
Update: Pricing now available
At this year's CES (Consumer Electronics Show) in Las Vegas, Vizio introduced its 2020 4K HDR Smart TV lineup. Vizio will be introducing more Quantum Color models and claims best-in-class quantum dot performance and industry-leading peak brightness – built on Vizio's most powerful full-array local dimming backlight with next-gen TV processing.
The 2020 lineup will also feature Vizio's first-ever OLED TV, which will be available in 55″ ($1,299.99) and 65″ ($1,999.99) screen sizes. As is typical with OLED design, Vizio's OLED TVs will feature borderless screen design and a pencil-thin profile. However, what's unique about their design is the innovative TV stand; this ultra-modern aluminum base has been crafted to dock flawlessly with the VIZIO Elevate soundbar.
Vizio's OLED displays will be equipped with their new IQ Ultra Processor which is the most advanced processor ever from VIZIO. The revolutionary IQ Ultra uses a 1GHz CPU and 64-bit image processing to achieve ultimate picture performance.
And in true OLED fashion, Vizio's OLED displays will deliver perfect blacks and infinite contrast. I look forward to seeing these new TVs in action, and at their listed retail price points, they will be the least expensive OLED TVs on the market.
New performance features for the 2020 lineup include IQ video processors and a Pro Gaming Engine, in addition to Vizio's latest SmartCast 4.0 smart TV platform and an all-new Vizio Voice Remote control. All 2020 models will also be compatible with the new HDMI 2.1 specification which allows for higher bandwidth up to 48 Gbps. HDMI 2.1 also allows for increased resolution up to 10K and frame rates up to 120fps.
About the new IQ video processors and Pro Gaming Engine – the following info in italics is from Vizio's website:
Across the 2020 lineup, VIZIO's SmartCast TVs add enhanced performance and more intelligence than ever before thanks to a first-of-its-kind processor for the U.S. market, as well as a new, powerful gaming engine. With incredible 64-bit image processing and 1 GHz CPU, the all-new VIZIO IQ processors add multi-step algorithms to more accurately upscale HD/FHD to 4K resolution, reduce noise and artifacts, and intelligently enhance detail and contrast with pixel-level brightness adjustments. The new 3D color engine works in concert with auto-calibration to improve color accuracy and create an image that is true to the artist's original intent. The premium IQ Ultra™ processor also enriches picture processing with AI and machine learning capabilities.
New for the 2020 lineup, is the introduction of VIZIO's ProGaming Engine that takes Xbox One X and PlayStation 4 performance to the next level with support for Variable Refresh Rates (VRR), AMD FreeSync, and resolutions up to 4K at 120Hz for greater motion clarity and smoother gameplay. The ProGaming Engine's faster response time and the input's lower lag further improve picture detail so that users can see every action and can respond faster than ever. In addition, Auto Game Mode with auto low latency is automatically engaged when console gameplay is detected, so users can enjoy the highest gaming performance every time they play.
Vizio's 2020 lineup features the latest entry-level V-Series V5 model available in 40" ($229.99), 43" ($279.99), 50" ($299.99), 55" ($339.99), 58", 60" ($479.99), 65" ($469.99) and 70" ($659.99) screen sizes. The V5 features full-array backlighting but without local dimming. Last year's V6 variant in this series did have local dimming. No word on whether the V6 will carry over to the 2020 lineup.
The V5 can deliver up to 250 nits of peak brightness – which in my opinion and experience is not adequate enough for good HDR performance.
The V-Series will offer the IQ ActiveTM variant of Vizio's latest processor giving the V-Series a razor-sharp image, while the V-Gaming Engine offers lower input lag, faster response time, and auto low-latency for a clean, smooth picture for improved gaming performance.
The V-Series, as well as all other 2020 Vizio models, will be compatible with Dolby Vision, HDR10+, HDR10 and HLG High Dynamic Range (HDR) formats.
Vizio's latest M-Series Quantum will once again be available in two variants – the M7 and M8. As with last year's models, the M8 will offer 90 local dimming zones, but will have higher peak brightness output than last year's model and will top out at 800 nits of peak brightness. The M7 will offer up to 30 local dimming zones and will push out up to 600 nits of peak brightness which is more than last year's models that delivered up to 400 nits of peak brightness.
Both M-Series variants will offer full-array LED backlighting with local dimming and will have quantum dot color technology. These models will also have the IQ ActiveTM video processor and the new ProGaming Engine.
The M7 will be available in 50" ($399.99), 55" ($499.99) and 65" ($549.99) screen sizes. The M8 will be available in 55" ($549.99) and 65" ($749.99) screen sizes.
Vizio's 2020 P-Series will be available in two variants – the Quantum X PX and the Quantum P9. The PX will be available in 65" ($1,499.99) 75" ($1,999.99) and 85" ($2,999.99) models whereas the P9 will offer 65" ($1,199.99) and 75" ($1,699.99) screen sizes.
Both variants will offer quantum color technology and full-array LED backlighting with local dimming. The PX will contain up to 792 zones of local dimming and will produce up to 3000 nits of peak brightness output. The P9 will contain up to 240 local dimming zones and will deliver up to 1200 nits of peak brightness.
Both P-Series variants will feature the IQ UltraTM version of Vizio's latest video processor. Both models will also offer the new ProGaming Engine.
Stay tuned for availability info.
Updated on 7/9/2020