Chromecast Streaming HDMI Media Player Review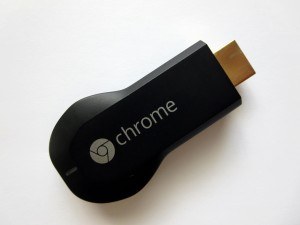 Google's Chromecast
 became a best seller even before it hit the market in July of 2013. This media device was flying off store shelves the minute it was in stock, and is still one of the besting selling electronic devices to date.
Chromecast is a small dongle measuring about 3-inches long that allows you to stream video from services such as NetFlix, HBO GO, Hulu Plus, YouTube, and audio from music apps like Pandora and Songza. It comes in a nicely packed double box. Inside the box you will find an easy to follow 3-step getting started guide.
You'll also find the Chromecast device itself, USB power cable, an optional power supply adapter and an HDMI extender which can be used to extend the length of the device if you have trouble plugging it into an HDMI port on your TV, or if it is blocking a nearby port. The extender has a built-in Wi-Fi amplifier to help lock onto your routers signal.
The Chromecast doesn't actually stream from your computer or phone device. It acts as a link to Google's cloud based servers which it receives data from and makes a connection to your TV. After the connection is made, all streaming is done over the internet. This means you can use your smart phone, tablet or laptop for other task.

Setup
Note: Wi-Fi access is required
Setup is fairly simple: 1) Plug the Chromecast into TV's HDMI port and connect the USB power cable to the USB port on your TV. If your TV doesn't have a USB port, use the power adapter and plug directly into a wall outlet. 2) Turn on your TV and switch the inputs until you see "set me up" on your screen. 3) Set the device up for use by going to www.google.com/chromecast/set.
Next, follow the setup process.  You may use an Android or iOS phone or tablet. Or a Mac or Windows computer for setup. I personally used my laptop for its mobility and ease of use while executing the setup process. If you do use your computer for setup, you must use the Google Chrome Web browser.
You'll also need to down load and install an ad-on for the browser called Chrome extension.  Once installed, you will see a Google Cast icon (a square with two rounded lines within it) at the top left corner of your Chrome web browser. Clicking this icon will allow Chromecast to mirror the web page you are visiting onto your TV screen.  Once setup is complete, go to the Chromecast app to verify your device says" Ready to Cast". From this point forward just go straight to the app you want to cast to view it on your TV.
Content
I've had my Chromecast for several months and at the time of purchase there were only a few apps to stream, namely Netflix, YouTube and Google Play Music and Movies. To date there are currently over 150 apps and counting for the Andriod and iOS platforms. The reason for this huge influx in apps is because Chromecast was opened to developers in February of 2014, which opened the flood gates for all developers wanting a piece of Googles casting device. Download the Cast Store app from your app store to access this content. You can also use the Chrome web browser to view websites on you big screen HDTV.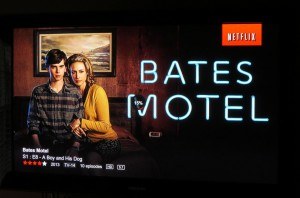 In Use/Performance
As I write this article, I'm also streaming an episode of the Bates Motel on Netflix via my Chromecast, all being done simultaneously on my laptop with no effect on streaming quality. Netflix and HBO GO are my favorite apps to use with Chromecast.
Videos play in full 1080p with excellent picture quality and surround sound (we available) without any buffing or stalling. Speaking of surround sound, I moved the Chromecast to my home theater room and hooked it up to my A/V receiver's HDMI port to view and listen in surround sound – the Bates Motel episode was now being heard in 5.1 Dolby Digital Plus surround with great results.
I also tried a couple of music apps… 1.FM is a radio station app where you can choose a genre and pick your station. I chose Bay Smooth Jazz Radio out of Atlanta. The Chromecast locked on to the station quickly and began streaming. The sound quality was good for an internet radio station, and there were no buffering issues. I also tried Pandora and got similar results.

Conclusion
My Rating: 4.5 out of 5
Price: $35.00 (Retail)
Latest version available at BestBuy.com
Warranty: 1 year labor
Specs
Dimension (W x H x D, inches) 2.83 x 1.38 x 0.47
Connectivity: Wi-Fi (802.11 b/g/n @ 2.4 GHz)
Pros:
Streams full 1080p from Netflix, HBO GO, Hulu Plus
Compact and easy to use
Control videos from mobile device or computer
View websites on your HDTV
Cons:
Challenging to use your mobile device as control panel when fast forwarding and reversing video play back
Using you desk top as control device- if it is located away from your TV screen
Google's Chromecast, priced at $35.00 is the least amount of money you can spend to get a great media streaming device. With its excellent performance, ease of use and great mobility factor which allows the user to move it around their home to enjoy streaming video and audio, make it a great bargain and one of the best media streaming devices available. I highly recommended it!
Do you think this is the best streaming media device to date?
Please leave me your comments…