LG SM9000PUA 4K HDR TV Review

65" 65SM9000PUA NanoCell 120Hz Smart LED TV
Review Summary
See full review below
Model year: 2019
Screen size reviewed: 65"
Check price at Amazon.com
Pros:
Great color, detail, clarity and picture definition
Very good wide angle viewing performance
Commendable HDR performance – bright highlights
Excellent webOS 4.5 smart TV platform
Low input lag – variable refresh rate
Cons:
IPS panel produces lower contrast ratio and grayish blacks in dark room setting
Poor black screen uniformity – some clouding and backlight bleed. Turning on the TV's local dimming feature improves screen uniformity and reduces clouding/backlight bleed
Some slight blooming around white text against a black background
Bottom Line: The LG SM9000 is a very good 4K TV with commendable performance with most video images, with the exception of viewing dark content in a dark room setting which renders blacks with a grayish overtone. This is less of an issue when viewing this TV a well-lit room. Color reproduction is impressive on this display delivering a vibrant and accurate color presentation. Impressive detail, clarity and image definition. The IPS panel enables wide viewing angles with minimal color fading and contrast loss.
Dimensions:
With stand: (W x H x D) 57.3″ x 35.7″ x 12.8″
Without stand: (W x H x D) 57.3″ x 32.9″ x 2.5″
Weight:
With stand: 61.9 lbs.
Without stand: 58.2 lbs.
Warranty: One year parts and labor
LG's SM9000 is part of LG's Nano 9 series of 4K HDR displays. The SM9000 is available in 55" and 65" screen sizes. The Nano 9 series also consists of the 65″ SM9500 (next model above the SM9000). There is also a SM9070 model which LG refers to as "Ultra Large", and is available in 75' and 82" sizes.
Design/Features
The SM9000's build quality is pretty solid. It doesn't feel or appear cheaply made. The panel itself is handsome in appearance and is fashioned with an ultra-thin bezel, which is now common place for many flat panel TVs today. The screen contains a semi-gloss finish, and has full-array LED backlighting with local dimming to bring the SM9000's pixels to life to create its picture images.
The TV's curved shape stand looks attractive but leaves the TV a bit unstable with lots of wobble, having more than a conventional design. The stand does, however, provide enough support without the risk of topple-over.
LG has rebranded their latest lineup of 2019 Ultra-Premium displays as "NanoCell" and has dropped the Super UHD name. LG's NanoCell technology isn't new, and was introduced a few years ago.
NanoCell provides greater color accuracy and a wider color spectrum of rich colors. In addition, Nano Cell technology uses particles to absorb unwanted light wavelengths and enhance the purity of the red and green colors displayed on the screen; this allows color purity and intensity to be maintained even at wide viewing angles.
LG still offers the excellent Magic Remote and has become one of my favorites to use. It has remained mostly unchanged over the year's (which is a good thing) and offers very good functionality. I really enjoy using its "point-and-click" feature which uses an on-screen mouse pointer to control certain TV functions. It also uses voice recognition via the remote's built-in microphone, and enables voice command for live TV, internet apps, web browser, input selection and volume control.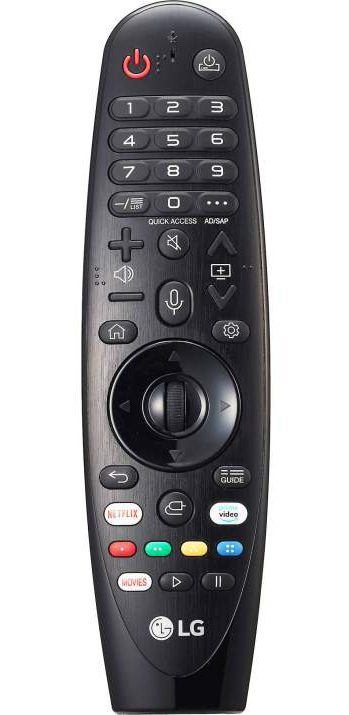 LG's smart TV platform uses a new webOS 4.5 version on 2019 TVs which brings a new look and added functions. The on-screen menu is getting an improvement, adding a second contextual row to the app menu that pops up when you select an app. In this second row, you'll see recently watched content, along with movie recommendations and trending content.
Smart home enthusiasts will be pleased to learn that the new version of webOS also includes a feature called Home Dashboard. This dedicated tool lets you manage all of your connected home devices, from smart doorbells to thermostats, right from the TV.
LG's webOS now supports Amazon Alexa and Google Assistant, and will be adding support of Apple's AirPlay 2 and HomeKit.
webOS 4.5 will continue to bring together all of the most popular streaming video apps, including Netflix and Amazon plus many more, some of which offer content in 4K and HDR.
Additionally, webOS 4.5 uses your content choices and puts together entertainment options that neatly organize your recent viewing history, what's on Live TV, what you might like to watch next, and the latest movies, TV shows, apps and games from the LG Content Store.
More features:
Alpha7 Gen 2 Intelligent Processor improves picture depth, sharpness, and color accuracy. It also uses artificial intelligence (AI) to optimize your viewing and listening experience. The TV will automatically and intelligently analyze source content and ambient conditions in real-time to enhance picture and sound quality.
High Dynamic Range (Dolby Vision, HDR10, HLG) for extended picture contrast and brightness and enhanced color when viewing HDR content
Full-array direct-lit LED backlight with local dimming for enhanced picture contrast and black levels
TruMotion 240 blur reduction (120Hz refresh rate)
IPS (In-Plane Switching) LCD panel provides very good off-axis viewing
8-bit panel with 10-bit dithering for expanded color range
HDMI 2.1 inputs for high frame rates, variable refresh rates and 48Gbps bandwidth
4K Upscaler enhances standard-def and high-def video signals for optimum display on a 4K screen
Game Mode supports frame rates up to 120Hz, and variable refresh rate, to deliver fast-action content
LG ThinQ AI – ThinQ w/ Voice Control uses voice commands to control TV functions and seamlessly perform functions to discover and play content, control TV settings, manage schedules, access information and control compatible connected smart home devices such as lighting and home appliances.
Built-in 2.2 speaker system (40 watts total)
Connectivity
4 HDMI 2.1 inputs (HDCP 2.2 compliant)
1 Composite video input (3.5mm A/V minijack – adapter supplied)
3 USB inputs – 2.0
1 Ethernet input
1 RF input for antenna/cable/satellite
1 Digital optical audio output
Bluetooth wireless audio streaming to a compatible speaker or set of headphones
Performance
LG's SM9000 delivered very good picture performance with the exception of contrast ratio. It's not that contrast was bad; it just didn't have the extended range needed to produce deep and highly saturated black levels. The culprit for this deficiency was the TV's IPS panel. IPS panels are great with color reproduction and wide angle viewing setups, but do suffer from contrast and color saturation loss, and the SM9000 was definitely no exception to this anomaly.
Personally I would like to see LG switch to VA panels, at least on some of their TV models; this move would most certainly put an end to the contrast issues in their LED/LCD TVs. So in the meantime, if you desire inky black levels while watching TV in a completely dark room, then you won't be truly satisfied with this TV and may want to look elsewhere.
On the other hand, if you plan on doing the majority of your TV watching in a well-lit or moderately lit room, then the lack of contrast and black levels will mostly go unnoticed under these conditions as the room lighting will affect the appearance of these picture metrics and cause them to appear much better than they actually are.
The SM9000 does have a feature to help increase the appearance of contrast which can be found in the "Picture Options" menu. Once there go to "LED Local Dimming" – I suggest starting with the medium setting – use this feature at your own discretion. With that said, I've found this feature can help increase black levels depending on the content it's applied to. However, it still won't give the extended contrast range of a good LED TV with a VA panel.
Now on to some positive attributes for the SM9000. This display made a strong showing with its color reproduction. Colors were very vivid and fully saturated all without appearing over processed or unnatural. The overall color palette was presented with very good accuracy as well; this was most notable with HDR content which made a fine showing on this TV.
Clarity and detail were very good on this display delivering pristine and sharp picture images, with great image depth and transparency.
Wide angle viewing on IPS panels is usually very good and out performs most VA panels. The SM9000 did well in this area and had very good side angle viewing performance as expected. In this regard, having seating arrangements that are placed well off-axis from the screen will not encounter any picture degradation.
Motion handling was very good on this TV. And regardless of the type of fast action content I viewed on this display, I did not detect any motion artifacts.
In recent past, certain LG LED TVs have used harmon/kardon speaker systems which produced above average sound quality. This type of audio system is absent from LG's latest models. So that leaves this TV with your typical flat panel sound quality, which was somewhat lean in its sound impact and lacking in bass output.
On a positive note, sound quality was clean and clear with very discernible dialog. It also had decent imaging with an open and spacious quality.
Conclusion
LG's 65SM9000PUA is a good LED/LCD TV and is capable of excellent picture quality within an ideal viewing environment, which is a room with moderate to bright lighting. In a low light or dark room setting, the image quality will suffer from low contrast capability which will leave dark images with a grayish appearance. However, the TVs LED Local Dimming feature does help improve the appearance of black levels.
Putting its contrast deficiencies aside, I was generally pleased with the performance of the SM9000 which is usually the case with all LG TV's I review. Its bright, colorful, sharp and detailed picture image made most hi-def images a pleasure to watch.